%@ Language=JavaScript %>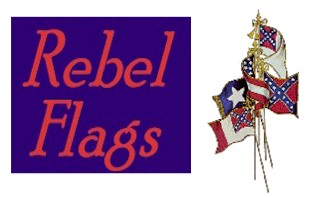 A Part Of The Alabama Flag Depot
WELCOME!!
This website is in NO WAY connected to hate groups or established for any political/racial agenda.
If your looking for a "Hate Web Site", you need to click and exit this Web Site NOW! This site is focused on the historical
perpetuation of Southern Battle Flags, and Civil War re-enactment.
This is a Love affair (Making flags) with preserving our heritage.
I am a re-enactor and will trade!
Click on the Confederate Seal or go to the bottom of the page to see my work!!
I began making Southern Battle Flags after an extensive search for a replica of our local unit flag. I could not find one
pre-fabricated, and a custom flag was too expensive! So, I decided to buy a used sewing machine and try to make one myself!
The flag did not turn out too bad, so I have been making custom made Battle Flags since that time.
I specialize in non standard flags; Hardee's, VanDorn's, Polk's, etc. flags, with unit names, battle honors, odd star shapes,
and appliqués. Custom work is my specialty, I pride myself on quality work and attention to detail.
My flags are exact visual replicas!!! Satisfaction is guaranteed 100%
I was recently promoted to Ordnance Corporal, and served as a "file Closer"
the weather was nice, as was a candlelight
graveside Ceremony for 43 Confederate Veterans and 1.
Revolutionary War Soldier buried in the Churches Cemetery.
A Good Time was had by all!

Photo Compliments of Ethan Gallo, Co Clerk
thumbnail please click
See you on the battlefield!!!
For more information about Rebel Flags, or to place an order, you can reach me
by telephone or mailto:alabamaflagdepot@yahoo.com
Please leave this information in your email:
Your name, and email address. I will need your phone number
if the flag is especially complicated. I will also need a picture, photo copy, scan,
or a sketch with dimensions.
Note: I can make any flag as long as I can see a picture of some kind.
My address and telephone number are:
Charles Linderman
63 Wright Road
Daleville, Alabama 36322
(334) 598-2625 or call 1-877-680-2295
mail to:alabamaflagdepot@yahoo.com

Webmaster Mail: crow@mctcnet.net